PTAC Installation and Replacement
The Company Chicago Calls for PTAC Installation & Replacement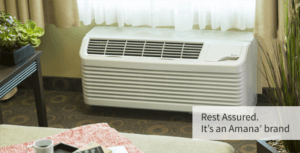 We are the company home & business owners call when they need a PTAC installed or replaced in Chicago and across all its suburbs. With over 31 years of thru-the-wall air conditioner installing experience, we've earned a strong reputation as a company that charges fair prices and knows the PTAC unit backward and forward.
Free Estimates
Experienced Detail-Oriented Technicians
Serving Chicago and All Suburbs
PTAC Retrofit Specialists
When it's time to replace your existing PTAC unit there are many times when it's not as simple as replacing it with the exact same model so that everything fits easily into the existing space. Many older models have been discontinued or don't offer near the same efficiency or performance of newer models.
Retrofitting your existing PTAC unit is often your best call and a service we've provided for hundreds of Chicago area hotels, motels, assisted living facilities, homeowner additions and numerous other residential and commercial dwellings.